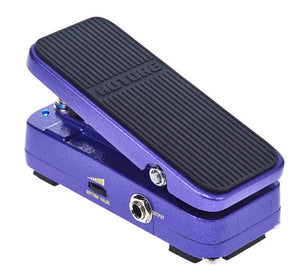 Hotone VOW Press Volume/Wah Pedal
$13495

$134.95

Save $35.04
---
---
Plant your foot on the Hotone Vow Press and you'll be greeted with sounds inspired by the crying wah tones found on countless classic recordings. But that's not all — this flexible effect also doubles as a volume pedal with adjustable operating range. You can also place the Vow Press in V/W mode, which allows you to switch between both effects with a simple press of your foot. Complete with active electronics and true bypass switching to preserve your tone, the Vow Press is a legit volume/wah pedal.
SPECIFICATIONS
Ultra-compact 3-in-1 volume, Wah & Vol / Wah

Vintage "Cry" wah tone

Adjustable control range (lower value)

Active volume mode for lossless transmission

Fashion selector

Status LED

True bypass

Input & output socket

Power supply with 9 V battery or 9 V DC power supply

Dimensions (L x W x H): 138 x 62.5 x 51 mm
A great problem solver

This is a great pedal. Like a lot of cats, my "pedalboard" had become over the top. On top of several individual pedals I also had an old Boss ME50 cobbled to the thing. While it was great to get all of these wonderful sounds, I knew it was time to find some ways to pair down
. One of my favorite sounds is having a slight slow "slap back" delay (kind of Pat Metheny style) with a delayed attack using a volume pedal. I also like using a volume pedal as a mute. A lot of the volume pedals I've used before and since are HUGE, and without sounding like a tone snob, had buffered circuits that darkened the entire sound in a way I didn't want. I was using the 535Q Wah, which I love though, that pedal is also big and heavy. The Wah sound on the Hotone is a bit different than I'm used to though I do like it and am glad I didn't have to give up having that sound on the board. In short, if you're looking for a great sounding little volume pedal with a great sounding Wah and the "vow" thing, get this pedal. Glad I gave it a shot.