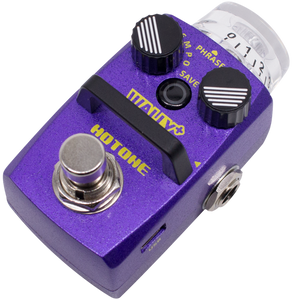 Hotone Wally+ Loop Station Pedal
$13495

$134.95

Save $35.04
---
---
The Hotone Wally+ Loop Station is a pedal designed for electric guitarists. It has a relatively simple set of controls. The Volume button controls the level of the loop, while the Tempo button can pitch your recorded material an octave in either direction, halving/doubling both the pitch and the speed. You'll also note the Save button; this is for saving and storing any loop you'd like to keep into one of 11 banks, which are selectable by means of the knob located at the top of the pedal.
Each bank can hold 30 minutes of material for a total of 330 minutes. The pedal captures your audio at sample rates and resolutions of 44.1 kHz / 24-bit, and you can export loops to external sources over a USB port. Free, corresponding Loop Studio software allows you to manage your phrases on Windows and Mac platforms. You can also use the Wally+ as a playback device, loading audio files into the pedal via the app.  
The pedal itself utilizes a true bypass signal path so your signal stays pristine and uncolored when the pedal is not engaged. It offers an unlimited number of overdubs, as well as undo/redo for your last take. At 2.9 x 1.7 x 1.7", it's quite compact.
Features
24-bit / 44.1 kHz recording/playback
Save button for catching and storing your inspired loops
11 banks for storing the keepers
8GB internal storage 
Import, export and manage songs via USB
Change loop tempo and volume on the fly
Maximum recording time of 330 minutes (30 minutes for each bank)