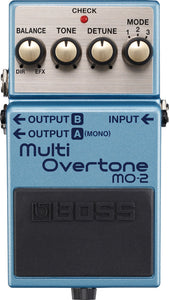 BOSS MO-2 Multi Overtone
Powered by Multi-Dimensional Processing technology (MDP), the MO-2 Multi Overtone uses your guitar's harmonic characteristics to create a wide range of extraordinary new sounds.

Multi-Dimensional Processing for Superior Tone
Roland's innovative Multi-Dimensional Processing (MDP) analyzes audio signals in many dimensions and applies ideal effects to each. By giving different dynamic changes relative to the input signal in real time, MDP can create bold, all-new sounds with a previously unattainable range of expression.

MO-2: An Expressive New Voice
The MO-2 produces incredibly distinctive and expressive tones only possible with the magic of MDP. Using your guitar's rich harmonic characteristics as a starting point, the MO-2 builds completely new voices that enhance and thicken your normal sound. Three different modes offer diverse tone-shaping options, while the DETUNE knob unlocks a wide range of impressive modulation effects. From shimmery multi-string resonance to flute-like transparency to powerful textures reminiscent of organs and synths, the MO-2 brings you an array of unique sonic tools that add all-new dynamic resonance characteristics to your guitar.
FEATURES
Next-generation BOSS compact pedal with innovative Multi-Dimensional Processing, realized with proprietary technology and custom DSP
Impressive, harmonically rich sounds that compliment and enhance your straight guitar sound
Works well with both clean and distorted guitar tones, and also bass guitar
Ultra-responsive to volume changes and playing dynamics
Three different sound modes; wide range of tonal adjustment with simple controls
Mono or stereo output
The Boss MO2 Multi-Overtone pedal is a high quality and great sounding product worthy of musicians seeking to add organ-like and ambient overtone textures to their music. For several years, I've relied on the Electro Harmonix Micro POG to add a variety of overtone and octave sounds to my sonic palette. I am still very satisfied with the POG, but was intrigued by some of the extras that Boss offers with this pedal. Namely, Boss has highly promoted their new MDP (multi-dimensional processing) technology, boasting greater clarity and precision in tone. In testing this pedal, I can attest that there is, in fact, a noticeable clarity in sound and tone. I was also intrigued by the stereo outputs on the Boss MO2 and the possibility of creating fuller and more lush sounds. I was not disappointed by the MO2 performance in this area. The POG also has dual outputs ('dry' and 'effect'), but the effect itself is not designed around a stereo image. The MO2 offers three modes of overtones. Each is distinct and useful, going from thinner treble to more deeper and resonant bass overtones. These modes can be further tweaked with a dedicated 'Tone' control, in addition to a spacey and intriguing "Detune" control. The bottom line is that the MO2 and the POG do very similar things, but the Boss pedal, in my opinion, has more versatility, and, by virtue of more control options, achieves more precision sound. I would like to see stereo inputs on the MO2 in the future . As it stands, the MO2 has a mono input, which limits where it can be placed in a pedal board chain with other stereo effects. Of course, the EH POG also has a mono input. I've had no trouble with the POG over the years, but the MO2 just feels more solid. In all, if you may think that Boss's MDP processing is just a gimmick, think again. It's innovative and lives up to its hype.