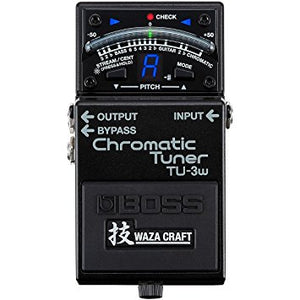 BOSS TU-3W Chromatic Tuner
With the TU-3W, BOSS brings Waza Craft mojo to the world's leading stompbox tuner. At its core, the TU-3W provides rock-solid tuning equivalent to the industry-standard TU-3. In true Waza tradition, the pedal's benchmark functionality is further enhanced with BOSS skill and craftsmanship. Pure, uncolored signal transfer is essential for a tuner, and the TU-3W features redesigned circuitry with selectable buffered or true-bypass operation and the most transparent audio pass-through possible. Packing high-end performance for discriminating players, the TU-3W delivers a premium pedal experience only available from BOSS. 
Waza Craft: The Art of Superior Tone
Since the beginning, the engineers at BOSS have been committed to achieving the finest guitar tones using any technology necessary, from old-school analog circuits to high-tech DSP. Continuing this enthusiastic spirit, BOSS has created the Waza Craft Series. In Japan, "Waza" is the term for art and technique, and these special edition pedals proudly carry the Waza symbol to represent the pinnacle of BOSS design and craftsmanship. With final sound approval carried out by BOSS in Japan, the Waza Craft series brings you exceptional tone and touch response through carefully selected analog components, refined circuitry, and meticulous attention to detail.
FEATURES
Superior tuning and premium signal buffer in one pedal
Tuning functions are identical to the industry-standard TU-3
Refined audio circuitry for exceptionally pure signal pass-through
Buffer can be turned off for true-bypass operation
Really like this tuner. Yes, they're all pretty utilitarian and just have to work, but I appreciate when a tuner is fast rather than taking a bit longer to register. This is as fast as I've used. It's also very bright and is easily visible in brighter rooms and outdoors. The switchable buffer/true bypass is
also a nice touch and helps demonstrate the tonal differences between having a buffer vs. not. Everything you need, and nothing you won't use - no extra features to muddy the waters. Think I'll have this one for a long time.