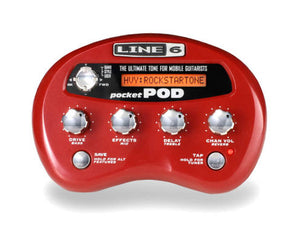 Line 6 Pocket POD
Pocket POD exhibits all the celebrated features and pro tone that makes POD a standard in recording studios everywhere. Don't be fooled by the smaller package, Pocket POD is packed with over 300 custom presets dialed in by some of today's hottest rock stars like Maroon 5, P.O.D., 311, Hoobastank and many more.
Battery-powered and about the size of a tuner, Pocket POD is completely portable. Use it for effects in front of your amp, or just plug in headphones and practice anywhere, anytime.
Connect to any computer via USB, then download the free Vyzex software and "deep dive" into all your tone details to create your own custom tone, or manage your own personal tone library right on your desktop. Or visit CustomTone.com to download any of the 3,000 free presets created by guitarists from around the world.
Pocket POD lets you sound like a rock star wherever you go.
Connect your Pocket POD directly into your amp or PA system, and transform your sound with perfect tone and all the amp modeling and effects only found on POD.
The headphone jack out allows you to practice anywhere without disturbing the neighbors, and the CD/MP3 jack gets you jamming along with your favorite bands.
Practice anywhere! Pocket POD runs off 4 AAA batteries. A 9V DC power plug is great for when you're not on the go. 5" long by 3 1/2" wide by 2" deep, and weighs in at a mere 6 oz, Pocket POD is your completely portable multi-effects solution.
Pocket POD comes with a USB to USB Mini cable connection. "Deep dive" into all your tone details using the Vyzex software. Create your own custom tone or manage your personal tone library right on your desktop. (Pocket POD is a class compliant USB MIDI device. You will not be able to directly record over a USB connection.)