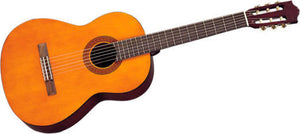 Yamaha C40 Classical Guitar
Beginners will appreciate the level of quality found in the C and CS series classic
guitars. These quality instruments deliver outstanding cost performance with
exceptional play ability and superb tone.The C series are full-size instruments with a level of quality only Yamaha can deliver. The CS models are compact classic guitars perfect for beginner players.