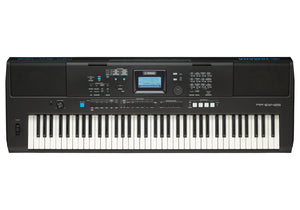 Yamaha PSR-EW425 76-Note Portable Keyboard
The PSR-EW400 series is an excellent gigging instrument, with a 76-key keyboard that more experienced players can make the most of. The latest PSR-EW425 features a newly developed tone generator that delivers stunning improvements in sound quality as well as high-quality effects such as delays, and as a premium organ sound sampled from the YC series of high-end stage keyboards.
With a 76-key touch-sensitive keyboard and functionality that builds on and evolves the legacy of the renowned PSR series of portable keyboards, the PSR-EW425 offers you power and performance that will let you take your music further. The PSR-EW425 delivers the same pro-quality sound found in high-end models. They're loaded with augmented effects and a wide range of styles - from the latest hits to genres from around the world.
Yamaha revamped the control panel and LCD, phased out the numeric keypad, added Direct Category Access buttons. The optimized control panel makes it quick and easy to access Voices, Styles and functions so that you can focus your time on being creative. With dedicated buttons, Quick Sampling, and innovative Motion Effect functionality, you can intuitively express the sounds you're hearing in your head.
Features
• 820 Voices and Super Articulation Lite Voices
• Premium organ sound
• 290 Styles
• 2 channels/41 types of DSP insertion effects
• Quick Sampling
• Groove Creator
• Live Control Knobs, Motion Effect functionality, pitch bend wheel
• Mega Boost
• Direct Category Access buttons
• USB Audio Recording/Interface
• Mic input and vocal effects
• Individual L/R outputs
• 12W + 12W powerful speakers